Services
Public ventilation systems:

fully comprehensive cleaning and disinfection of air-ducts and ventilation systems with or without a motor in blocks of flats and apartment houses.
Industrial fat extractor fan systems: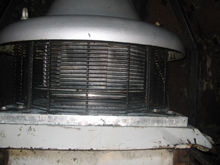 multinational stores

restaurants

bakeries

pizza-houses

professional chemical cleaning and disinfection of fat- and oil-extractors, air-ducts, filter-cartridges and roof-ventilators
Industrial dry ventilator systems:
cleaning and disinfection of central climatic apparatuses and their air-ducts

sterilization

full cleaning and disinfection of ventilation systems in stores
Depending on the nature of contamination, cleaning can be dry or chemical.
Disinfection is done with chemicals to kill selectively fungus, virus and bacteria.
Chemicals used at cleaning meet legal requirements and have the necessary documents attached.
Our company offers you professional, thorough work and we always make a record following our assignments.